On September 11, 2001, 19 men boarded four transcontinental aircraft departing the east coast.  Their intent was to hijack these aircraft and use them as weapons to attack sites in New York City and Washington DC.  They executed attacks on both Twin Towers in New York and the Pentagon.  A fourth attack was thwarted by passengers, resulting in the aircraft crashing in a field near  Shanksville PA.  
On July 6, 2011, Washington Township, Franklin County PA began a process leading to construction of a facility to house artifacts from the three attack sites on September 11, 2001.

The site was dedicated at the completion of construction on September 11, 2013.  A time capsule was embedded under the floor of the Tribute on September 23, 2013 with items to preserve for 50 – 100 years.  The final element of the design are two 1/320th scale, five foot models of the Twin Towers of New York's World Trade Center.  This final piece was dedicated on Sept. 11, 2015, in Washington Township's Red Run Park and dedicated to the memory of Ann Backer, an active community volunteer and member of the 9/11 Tribute Committee, who died in February.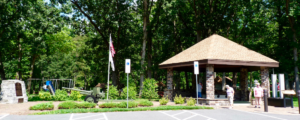 This site documents the effort to design, fund and construct this 9/11 Tribute through the tabs to the left.  All resources to construct the Tribute were donated via either cash or in-kind contributions.  No township tax dollars were used, although township personnel did some of the site preparation work.  Names of individuals and organizations who made this possible are included on our Virtual Donor Wall and on the Fund Raising page.
From time to time, maintenance and continuing development activities are initiated for the Tribute.  If you wish to support these activities, send tax deductible checks,
made payable to the:
Rouzerville Business Association
mailed to: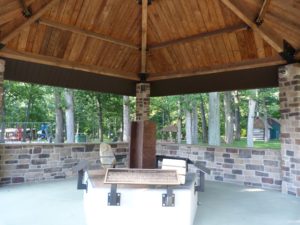 Washington Township
            13013 Welty Road
            Waynesboro, PA 17268
or email
or call
717-762-3128
Thanks for your interest, and come visit your 9/11 Tribute.
To return to the Washington Township website, click here