Why a 9/11 Tribute in Washington Township?
Many have asked this question.  After all, there were no attacks in Waynesboro on September 11, 2001, no casualties among area residents, and few who were actually present at an attack site.  So why did the people of Washington Township, Franklin County, PA, feel the need to create this tribute?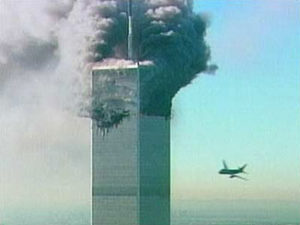 The events of 9/11 are covered in the reader boards surrounding the central pedestal.  Four transcontinental aircraft with full fuel were high-jacked by 19 terrorists who flew two aircraft into the Twin Towers of New York City, and another into the Pentagon in Washington DC.  On the fourth aircraft, passengers and crew of United Flight 93 learned of the other attacks.  Inside an hour they launched a counter-attack on the terrorists, preventing another attack on innocent civilians on the ground, likely in Washington DC, at the cost of their lives.  2,977 people died as a result of all four attacks.
There are events in every generation that catalyze deep feelings.  In the United States, Pearl Harbor, President Kennedy's assassination, the first manned landing on the moon, and 9/11 are among these events for current generations.  Virtually everyone alive on September 11th remembers where they were and what they were doing at the times of the attacks.  By the time you read this, other such events will have occurred, marking their generations as the events noted above recede into historical footnotes.
The people of Washington Township — Waynesboro, Rouzerville, and surrounding communities — felt the loss as deeply as any group, subsequently supporting and enduring two wars, a global hunt for remnants of the original Al Qaeda organization, and enhanced domestic security.  That hunt for the roots of the attacks, while necessary, are all very remote from this small area.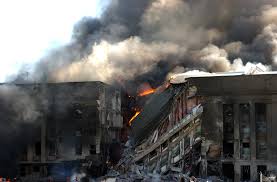 This community is special.  Columbus Ohio was once described as having a certain aura of mental health.  The same can be said of our area.  In our town folks always step up when asked to help with something worthwhile, and give their very best when they do.  Successes come one brick at a time.  Problems are solved with a few quiet words among friends.
After a decade of living with the impacts of the 9/11 attacks, we were ready to do something to more directly express our feelings and thoughts.  Stimulus to action comes in all sizes and forms.  Ours was as simple as an article in a national newspaper.  Steve Kulla, a township Supervisor and prominent local lawyer, saw an article in which New York City was offering portions of the debris from the twin towers.
Steve brought the idea to the July 6, 2011 Township Meeting at which the Supervisors agreed to look into getting the artifact from the World Trade Center.  Through their efforts, PA Congressman Shuster's office contacted the Port Authority of New York / New Jersey on the township's behalf, resulting in a letter requesting an artifact.  Upon approval, township personnel drove to Kennedy International Airport on September 21, 2011, returning with the artifact.  During this same period arrangements were made to move the Rouzerville World War II Memorial, maintained by the Rouzerville Ruritan, to Red Run Park.  This led to subsequent artifacts from the other attack sites:  the Pentagon and Shanksville, PA.