The location of the 9/11 Tribute is in Red Run Park, Rouzerville, PA.  The park is to the east of Waynesboro next to Red Run Lake.  The construction site is to be just to the west (left) of the lake, to the north (top) side of the parking lot parallel to Route 16 which runs from the lake to the circled 16 marker.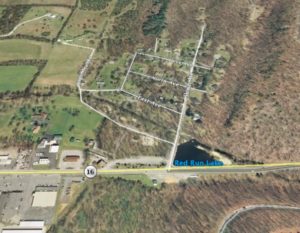 There are several noteworthy characteristics of the design and layout.  Fairly obviously, the pentagon shape makes a nod to that attack site.  Not so obviously, the diameter of the circle in which the pentagon is inscribed is 30′, approximating the diameter of the crater from Flight 93 in Shanksville, PA.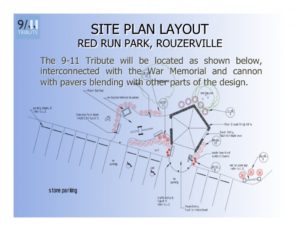 In addition, as laid out, when standing in the center of the tribute, three of the five corners of the tribute face within a few degrees of each of the attack sites.  In fact, the reader boards are arranged around the central pedestal so that when one is reading about each of the three attack sites, one is facing in the direction of the Twin Towers attack (197 miles away— 84 degrees magnetic), the Pentagon attack (64 miles away — 175 degrees magnetic) or the Flight 93 attack (76 miles away — 291 degrees magnetic).