Fund raising throughout 2012 generated over $60,000 in cash and
nearly as much in "in-kind" donations.
This made it possible to pour the concrete footers and floor of the tribute, and move the World War II monument and its accompanying cannon, in the fall 2012.  It also left sufficient funds to accumulate many of the remaining tribute components over the winter.  Some of the activities which raised these funds are listed below.
Presentations to local Clubs and Service Organizations:  Some committee members solicited and delivered presentations to organizations throughout the community, resulting in a number of large donations.
William Max McLaughlin VFW Post 695 of Waynesboro, PA, recently contributed $10,000 to a September 11, 2001, memorial being developed in Washington Township, PA. It was the largest single donation to date toward the project.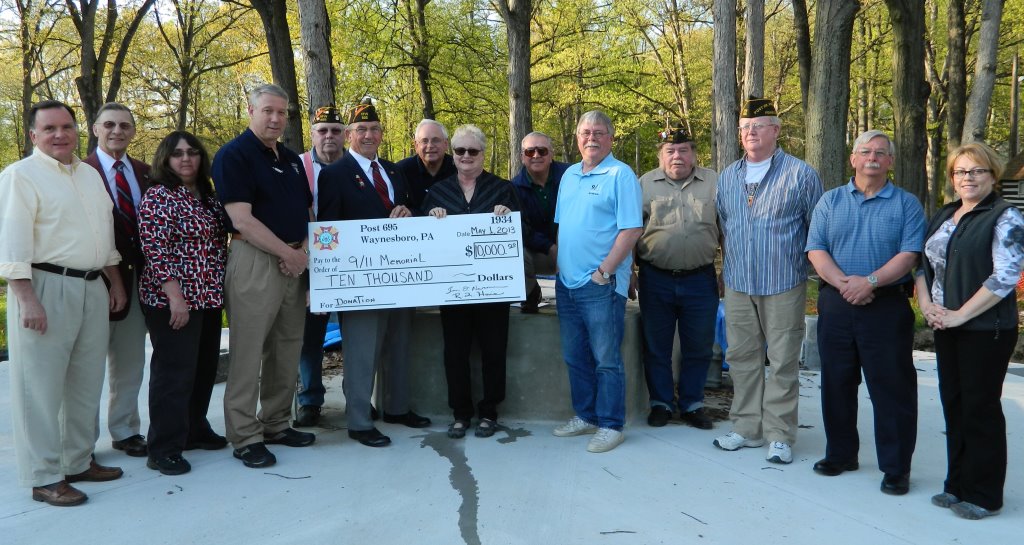 From left: William Conrad, Supervisor, Mayor Richard Starliper, Elaine Gladhill, Supervisor, Jeffrey Geesaman, Supervisor, George S. Hoffman II, VFW, Richard L. Hovis, VFW, Mike Christopher, Township Manager, Ann Backer, 9/11 Committee, Dan DeDona, 9/11 Committee, Bob Backer, 9/11 Committee, Bob Tressler, VWF, David Deverell, VFW, Fire Chief Dave Martin and Carlene Willhide, 9/11 Committee.
Knights of Columbus 9/11 Tribute Donation-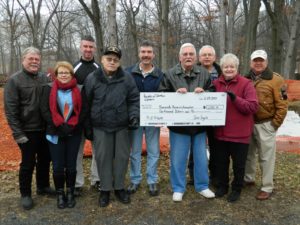 On February 23, 2013, the 9/11 Tribute Committee received a donation of $1,000.00 from the
Cumberland Valley Rod and Custom Club donates to 9/11 Tribute –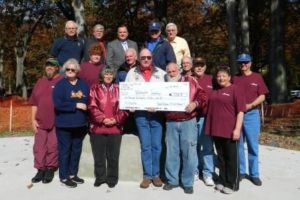 On October 12, 2012 Cumberland Valley Rod and Custom Club presented a check for $1,500 to the Township for the 9/11 Memorial
Eagles Club donates to 9/11 Tribute –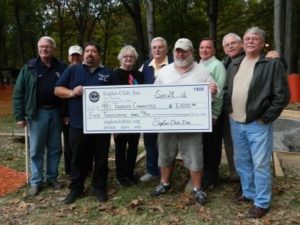 On September 28, 2012 the Eagles Club donates $5,000 to the 9/11 Tribute Memorial Project
Susquehanna Bank donates to 9/11 Tribute –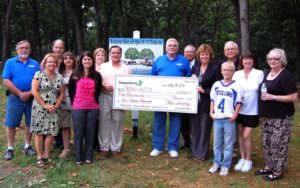 On July 18, 2012 Susquehanna Bank presented a check for $5,000 to the Township and Rouzerville Business Association for the 9/11 Tribute.
Contributions from Schools:  In some cases local school children conducted fund drives and contributed their earnings to the growing fund.
Students at Summitview Elementary School in Waynesboro raised $150 in a coin drive Sept. 10 to 14 to support the 9/11 Tribute Memorial at Red Run Park in Rouzerville. The community service project was sponsored by student council, led by adviser Ruth Coe. A check was presented to Dan DeDona, a member of the tribute committee by students (from the Record Herald, Dec 12, 2012)
Coin Cans:  A dozen paint cans were donated by Sherwin Williams.  With our 9-11 Logo and a picture of the design pasted on each, these cans were located throughout town to collect whatever change patrons of local businesses would contribute.
Ruritan Bingo: (with a Spanish translation to reach a special segment of our community)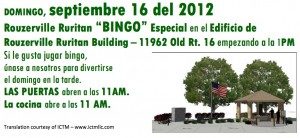 WAYZ Radiothon:  An all day Radiothon at Red Run Park was held on September 11, 2012.  About 90 volunteers manned phones throughout the day, starting before dawn and running until early evening.  This was the single largest fund raising event of the effort.  See the special note below about the phone volunteers.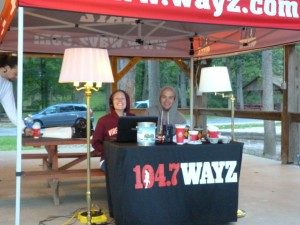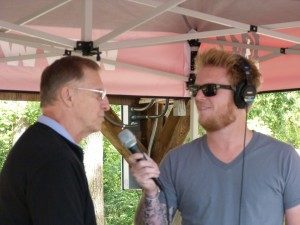 WAYZ celebrities ran their shows from under a pavilion and out of the back of a van for 15 hours, playing music and interviewing community and business leaders.
The last contribution of the day was by a young girl, fresh from gymnastics class, who brought just over $10 in change as we were tearing down for the day.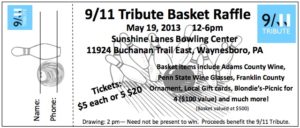 Celebrity Waiters Night at Golden Corral Restaurant:  On May 23, 2013 the Celebrity Waiters brought in $716 worth of tips to go toward the 9/11 Tribute at Red Run Park.  A number of local luminaries served as waiters for the evening and donated tips and other contributions to the Tribute.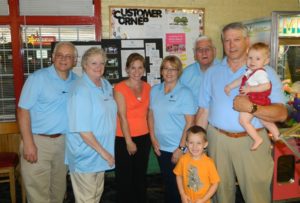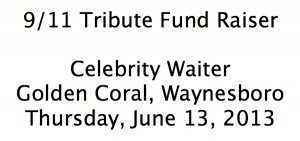 ~ ~ ~ ~ ~ 
Special Note on Phone Volunteers:  The RadioThon was our most aggressive as well as most successful single fund raising effort.  Part of what made it a challenge was the sheer number of people needed to man phones throughout the day, from 5am through 7pm, in Red Run Park.  It is said 80% of life is just showing up.  In our case, the individuals and business teams listed below arrived on a cold, pre-dawn morning, and filled every time slot throughout the day and into the early evening.  By rising to this peak demand for community support, this was the clearest sign of the broad support that ultimately made our efforts a success.  We thank each and every individual for their help.